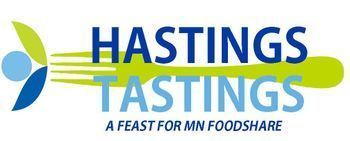 Monday, March 27th, 4:30 - 7:30pm
SEAS Mother Seton Hall
Join us in celebrating the 26th Annual Hastings Tastings! Sample delicious food and drinks from local establishments.
Hastings Tastings is our signature event supporting MN FoodShare, a month of generosity to help Minnesota food shelves restock their supplies.
All donations of food and funds are proportionately matched by MN FoodShare.
Tickets now available at Cub Foods, YMCA, HFS donation center or online. Tickets are $35 and limited number of tickets available.
If you are a food and/or beverage establishment wanting to be part of this event, please contact Kelly Carter
at 651-437-7134.