Project Share provides help for the holidays for families and individuals living in ISD 200.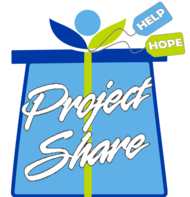 Receiving Project Share
Project Share is available for eligible families and single adults living in Hastings School District 200 by appointment only.  
Families with minor children may call 651-437-7134 for a registration appointment starting October 8th.  Families are strongly encouraged to register early to participate in the Adopt-a-Family program.  
Adult-only households may call 651-437-7134 for an appointment starting December 2nd.  
Gifts and groceries will be distributed December 11th -13th and 17th -19th. 
Supporting Project Share
Project Share is made possible by the generosity of the community.  There are many ways to spread holiday cheer to your neighbors in Hastings.
Volunteer

Volunteers help register families, pack and distribute food, and help families select gifts.  Volunteers may sign-up for a one time opportunity or volunteer multiple days during the holidays. The Project Share volunteer sign up is now open--click the link above or below to volunteer!

Adopt-a-Family

Share the joy of the season by adopting a family. Get together with friends, co-workers, family, or spread the joy by yourself by fulfilling a family's wish list.  Adopt-a-Family guidelines and FAQs can be found below.

Gift Trees

Gift Trees are hosted by area churches and businesses. The host sets up a tree or other display and gift wishes are put on it for community members to select. Gift items are then brought back to the host site or directly to Hastings Family Service. Lists of suggested gifts for children, teenagers, and adults can be found below. If you are interested in hosting a Gift Tree for Project Share 2019 please call us at 651-437-7134.

Donate Gifts

Single adults and families who do not sign up in time to be adopted are able to select gifts from the "North Pole" at Hastings Family Service. We appreciate having gifts on hand to provide to those families.  Gift for adults and teenagers are a particular need. Lists of suggested gifts for children, teenagers, and adults can be found below.

Provide a Holiday Meal

Food is provided to nearly all households receiving Project Share. Please consider making a donation of $30 to cover the cost of a holiday meal for a neighbor in Hastings.
Helpful Information for Project Share Donors