Hastings Tastings tickets are SOLD OUT!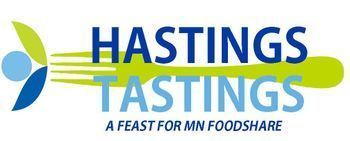 Hastings Tastings
Hastings Tastings is an event that provides support to Hastings Family Service during the Minnesota FoodShare campaign.  Local restaurants give generously of their time, talent, and delicious food, allowing guests to sample selected menu items.  In between bites, guests can participate in the silent auction and beer, wine, and restaurant gift card raffles.  
The 25th Annual Hastings Tastings will be Monday, March 28, 4:00-7:00 p.m. at St. Elizabeth Ann Seton Church Social Hall.  We'll be celebrating the 25th anniversary with a sampling of happy hour appetizers and drinks from local establishments. 
The 25th anniversary ticket price is $25.  Tickets are limited; 250 tickets are available.  Hastings Tastings tickets are sold out online; please call 651-437-7134 for availability.
Proceeds will be proportionately MATCHED by MN FoodShare.