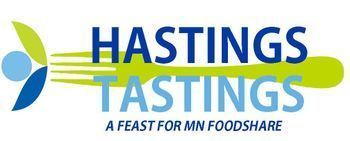 Hastings Tastings
Hastings Tastings is an event that provides support to Hastings Family Service during the Minnesota FoodShare campaign.  Local restaurants give generously of their time, talent, and delicious food, allowing guests to sample selected menu items.  In between bites, guests can participate in the silent auction and beer, wine, and restaurant gift card raffles.  
Monday, March 27th, 4:30 - 7:30pm at SEAS Mother Seton Hall
Join us in celebrating the 26th Annual Hastings Tastings! Sample delicious food and drinks from local establishments.
All donations of food and funds are proportionately matched by MN FoodShare.
Tickets are $35.  Online tickets are SOLD OUT!  Check the YMCA to grab a last minute ticket.   
If you are a food and/or beverage establishment wanting to be part of this event, please contact Kelly Carter
at 651-437-7134.