Your Hometown Thrift Store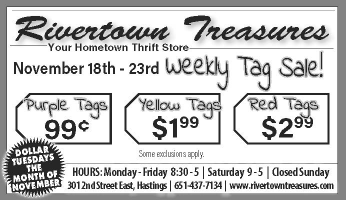 This Week at Rivertown Treasures:
​Rivertown Treasures is open to the public. 100% of the profits benefit the programs of Hastings Family Service. All merchandise is donated by the community.  
Clothing & Household Vouchers
Hastings Family Service offers emergency clothing and household vouchers to families and individuals in school district 200 through Rivertown Treasures.
To receive a voucher, please call 651-437-7134 to schedule an appointment. You must have a photo ID and a current piece of mail postmarked within the last two weeks or a current utility bill for every adult in the household. 
Supporting Rivertown Treasures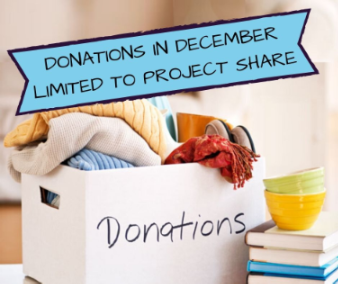 Due to space needs for Project Share, Rivertown Treasures will be unable to accept clothing and household donations December 2 - December 31, 2019.  The Donation Center will remain open for Project Share and food donations during this time.
We encourage donors to plan ahead. We welcome donations of gently used clothing and household items through November and resuming on January 2, 2020.
We appreciate your support of Rivertown Treasures and Hastings Family Service!
​Donations
Rivertown Treasures is happy to accept new and gently used clothing and household items that are clean and in reusable condition (no stains, tears, broken or missing parts/pieces, or items that are not working properly). 
For the safety of our volunteers, whenever possible, please pack donations in kitchen-sized garbage bags or boxes that can easily be lifted by one person. 
Rivertown Treasures is unable to accept the following items:
Large baby equipment (cribs, car seats, high chairs, etc.) 
Electronics (TVs, printers, radios, computers, etc.)
Medical equipment (diabetic testing supplies, etc.)
Large furniture items (couches, beds, tables, and chairs)
Encyclopedias, textbooks, and dictionaries
​Some items my be accepted on a case by case basis as space permits with final approval by store manager. 
Please visit the Donation Center page for additional information. 
Volunteers
​Rivertown Treasures operates with the help of many volunteers. Volunteers assist customers in the store, sort and price donations, and help families and individuals fulfill vouchers.