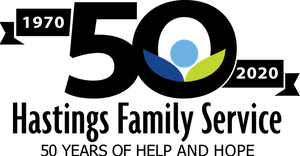 Share Your Story
As Hastings Family Service celebrates 50 years in the community, we recognize that the foundation for the help and hope available today was built by the people who came before us... volunteers, staff, supporters, and the neighbors served.
As we look to the future, we also want to honor the past and all who have worked so hard to create and maintain HFS as a community resource. 
Please share your memories or a favorite story about HFS over the last 50 years using this form.  Photo submissions are welcome by email to amysutton@hastingsfamilyservice.org. 
My HFS Story: